Early Bird Menu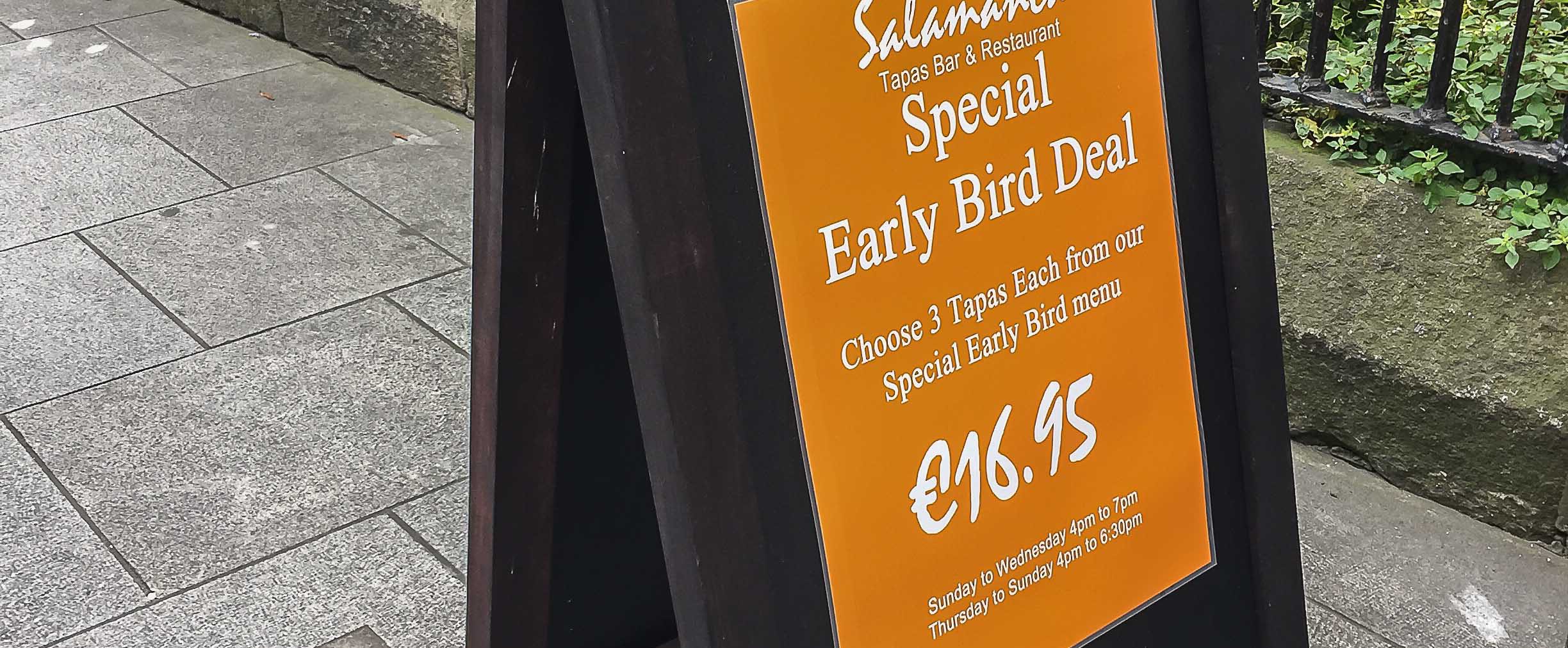 1. Ensalada Vegetariana
Oven baked sweet Potato, Spinish, red Onion, Feta Cheese, mixed Seeds & Orange dressing. (G)(N)
2. Pan fried Cod
on a bed of fried Aubergines, topped with fresh Romesco Sauce (F)(G)(SD)(N)
3. Spiced Chicken Wings
Served with Sesame Seeds. (G)(D)(CL)(MS)(SD)
4. Petite Fillet Steak
with Red Wine Sauce.(CL)(SD)
5. Tortellini with Ricotta Cheese & Asparagus
in a Creamy Pesto Sauce. (G)(D)(E), without Parmesan it is (V)
6. Andalucian spiced Meatballs
in Tomato & Garlic Sauce.(G)(E)(D)(CL)(SD)
7. Oven baked Peppers
stuffed with Chilli Beef (Tex Mex style) & Sour Cream.(D)(CL)(SD)
8. Caballitos con Tartara
Tiger Prawns cooked in a crispy Batter and served with an Orange Tartar Sauce. (CR)(G)(D)(SD)
9. Croquetas de Jamon
Serrano Ham Croquettes. (G)(E)(D)(MS)
10. Spicy Spanish Sausage
sautéed in Red Wine & Peppers. (SD)
11. Mini Fish & Chips (Cod in Batter)
with red Pepper Sauce & Fries.(G)(E)(SD)
12. Homemade Sardine Pate
with toasted bread (G)(F)(D)
13. Spanish Omelette with Onions
served with house Garlic Mayo (E)(MS)(SD) (v)
14. Paella de Carne
with Chicken, Chorizo, green Peas, Carrots, Peppers,green Beans.(CL)(SD)
15. Pollo al Curry
cchar-grilled Chicken breast with homemade Creamy coconut, yellow Curry Sauce.
16. Paella Marisco
with mixed Seafood, green Peas, Peppers, green Beans.(CR)(F)(ML)(CL)
17. Tapa of Mushrooms
Mushrooms sautéed in Creamy Garlic Sauce (D)(v).
18. Patatas Bravas or Patatas Ali-Oli
fried Potatoes with spicy Bravas Sauce (G)(CL)(SD), or Garlic Mayo (G)(E)(MS)(SD) (V).
19. Grilled Spanish Burgos Black Pudding
with Apple Puree & Caramelized Onion (SD).
20. Potato skins
with Caramelised Onion, crispy Bacon & Brie. (G)(D)(MS)(SD)
21. Tempura Vegetables
with homemade Tomato & Chilli Dip (G)(E) (v)
All Early Bird Orders must be strictly placed by Early Bird cut off times.
Available 4pm to 7pm Sun to Wed. 4pm to 6.30pm Thur to Sat.