Salamanca Tapas Box old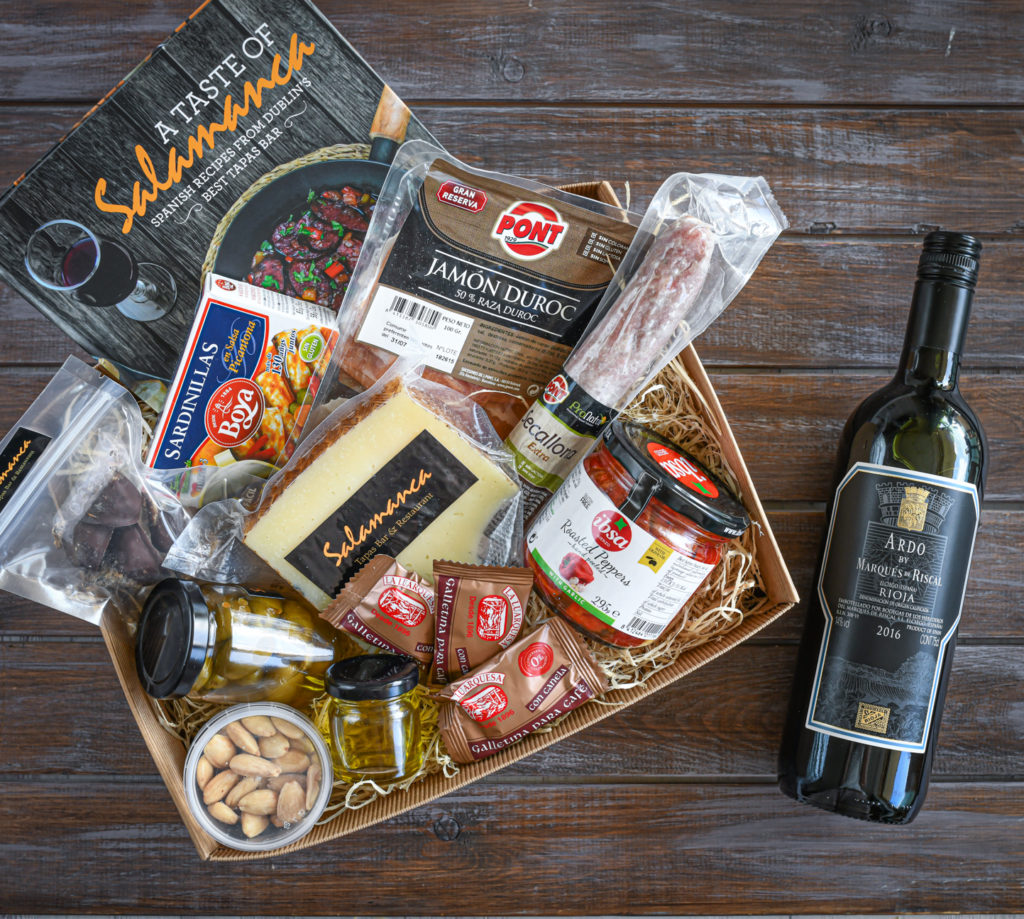 Would you like a "Taste of Salamanca at Home"? Enjoy our Box of delicious cold Spanish Tapas with free contactless delivery straight to your door.* Create a night of dining out while staying in "Spanish style" with our box of goodies for only 30 Euros or add a nice white or red wine and/or our Cookbook.
*Social Distance rules apply. Delivery is free of charge and is in Dublin area only. Delivery is Thursday, Friday, Saturday only. Please see shipping information below.
We are delighted to announce that anyone living in the surrounding areas of Cullentra farm shop (Cullentra, Longwood, Co Meath, A83 E953) can now purchase our box and related products through here for collection there the next day.
Box includes:
Vega Manchego Sheep Cheese (contains Dairy, aged 6 months cured)
Roasted Peppers with Garlic
Secallona Spanish Salami
Olives (from Malaga)
Almonds from Murcia (contains Nuts)
Gran Reserva Jamon Duroc (fine Spanish Ham)
Sardinallas en Salsa Picantona (Contains Fish)
A little Jar of Olive Oil (from Malaga)
we also add Chocolate dipped Figs (contains Soya & Dairy)(From Caceres) just to be sweet.
You can pair the Tapas with a Bottle of Ardo de Riscal, Rioja form Spain for 15 Euros extra. Made from Tempranillo Grape, a smooth intensity fruity red wine with aromas of Vanilla. (over 18s only)
For lovers of white wine, you can enjoy a Bottle of Pionero Mundi Albarino, Rias Baixas from Spain also for 15 Euros. (over 18s only). A wine with an intense full nose, tones of citrus Fruits and Apples, moderate acidity on the palate, fresh on the nose while at the same time maintaining it's aromatic complexity.
Our very own Cookbook " A Taste of Salamanca" is available to add to this offer. (Normally sells at €16.99)
Our Tapas Box ideally caters for 2 people.
It is also the perfect gift to send someone for birthday/anniversary while in quarantine. 🎁
Choose from one of our Tapas Box options:
_______
_______
_______
(THE PERFECT GIFT)
_______
(THE PERFECT GIFT)
______________________________________
Shipping:
Orders will be sent in rotation.
Thursday between 4 pm and 7 pm (County Dublin, Dublin 13, Dublin 16, Dublin 18 only)*
Friday between 5 pm and 8 pm (all other Dublin areas)
Saturday between 2 pm and 6 pm (all other Dublin areas)

Anyone wishing to purchase our box and related products in areas surrounding Cullentra Farm shop (Cullentra, Longwood, Co Meath, A83 E953) may do so through here and collect from Cullentra Farm shop from each Thursday.
(Please note we cannot guarantee delivery on a specific day apart from *)
Terms & Conditions:
1. All orders through our website only using our PayPal system which accepts all major cards. Phone call orders and walk-ins are not available at this time.
2. Contactless delivery. We deliver to the Dublin area only. The driver will phone you when he is near your location and will drop to your door or suitable location maintaining 2 meters Social Distance rule.
3. Please note alcohol cannot be purchased on its own and must be purchased with our Tapas Box. Age verification will apply if the driver has doubts. Must be over 18 only.
4. Delivery days are (Fridays 5 pm to 8 pm) & (Saturdays 2 pm to 6 pm) All orders must be placed by Thursdays at midnight to ensure supplies (please note these delivery hours & days may expand subject to demand). All orders relevant to Thursday deliveries must be placed by 12 pm Midnight on Wednesday.
5. If you are purchasing your order for collection from Cullentra Farm shop please put 'for collection" in the shipping notes box at the checkout. All orders for collection from Cullentra Farm shop must be placed by each Tuesday midnight.
6. If you an issue regarding your order please email us at salamancatapas@gmail.com during operating hours. Please do not contact our Social media channels for issues regarding orders.
7. Safety & Hygiene is of huge priority to us at Salamanca. Disclaimer- Whilst every effort is made to prevent cross-contamination of Allergens, our foods are produced in an environment where all Allergens are handled. Although many of the products listed as containing Allergens do not directly contain the named Allergen, the manufacturer's labels have stated that this product "may contain" or is manufactured in a factory that makes products containing seeds, nuts and Bread products. We have listed these Allergens in the Allergen and intolerance labeling to ensure the customer's satisfaction.
8. Please note all products are subject to availability. Salamanca Tapas Bar reserves the right to change the products from time to time, but it will be advertised.
9. We are delivering in Dublin area only and delivery is FREE OF CHARGE.
Thank you for your order and enjoy a Taste of Salamanca at home. Stay Safe!